GENIE Z60
SELF-PROPELLED MEWP
The Genie Z60/34 (300kg) Accessrailer now benefits from hydrostatic rail drive with brakes on all four wheels. It has a working height of 12 meters and an outreach of 11 meters – 9 meters at full height.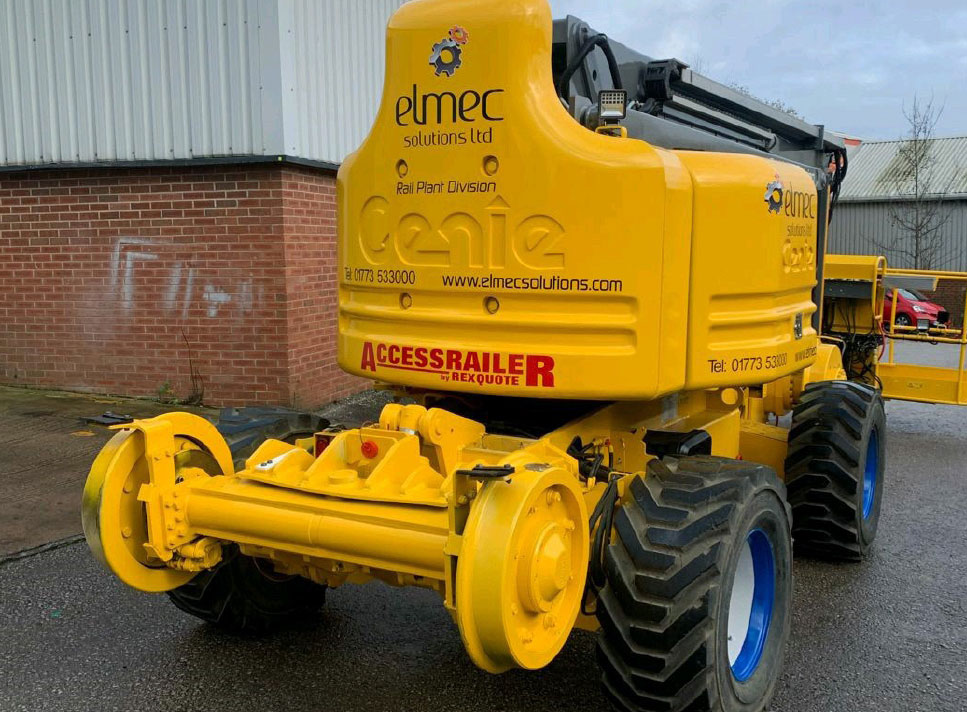 | | |
| --- | --- |
| Weight | 16500kgs |
| Gauge | W6a |
| Rail Type | 9A |
| On / Off Track Cant | 100mm |
| Max Travel Cant | 200mm |
| Max Working Cant | 150mm |
| Max Gradient | 1 in 25 |
| Max Trailing Load | 1000kgs |
| Max Height | 12m |
| Max Side Outreach | 11m |
| ALO Capable | NO |
| Travel Under Live OLE | YES |
| Work Under Live OLE | NO |
The optional 2.4 m by 0.9 m platform can carry two people plus tools and has a capacity of 300 kg. The Genie Accessrailer can be travelled and controlled from the basket. The on-rail speed with the basket stowed is 16 kph and 4 kph when in use, i.e., when the basket is elevated. The machine can tow up to 500 kg and Rexquote have developed a special lightweight two wheeled trailer (T12) uniquely designed to work with the Genie making it even more versatile.
PLC control with colour display screen can assist with fault finding when switching errors occur as status is displayed on screen. Each machine is equipped with modem for remote access so Rexquote can assist if required. Warranty period is two years on this product and remote support option can be purchased as part of an ongoing support contract when warranty expires. Safety features include an Emergency Descent System, emergency stop, tilt alarm and automatic basket levelling machine is CE marked and has been independently tested and approved to EN280. It is fully compliant with RIS1530 PLT.
Downloads
Elmec-Solutions-Z60-Case-Study.pdf