VOLVO EW140
TWIN-CAB EXCARAILER
The Volvo Excarailer EW140 has a unique Twin Cab configuration where the Operator & Machine Controller are seated parallel as opposed to the same side restricted view on current machines.
This ensures all round visibility when travelling towards a worksite or long distance, this can also be utilised while flailing operations are commencing due to the ballistic resistant glass in both cabs reducing the risk of injury 360-Degree camera systems are in place for better overall safety.
Machine is fitted with a duplex communication cab kit with built in charging ports to eliminate having to ensure communication is brought to site.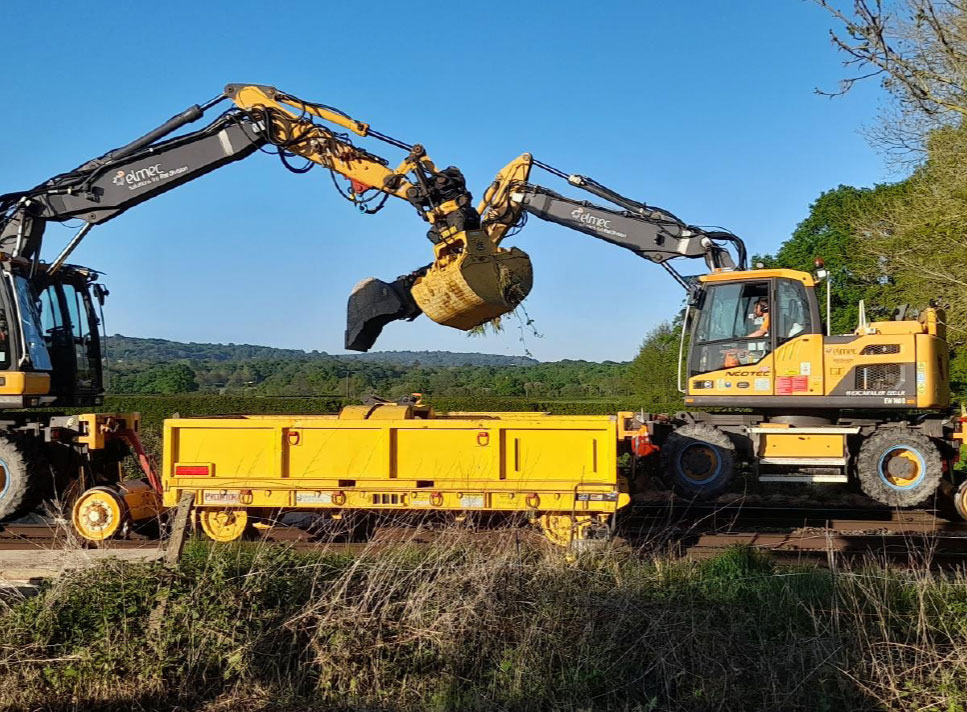 | | |
| --- | --- |
| Weight | 23000kgs |
| Gauge | W6a |
| Rail Type | 9A |
| On / Off Track Cant | 100mm |
| Max Travel Cant | 200mm |
| Max Working Cant | 150mm |
| Max Gradient | 1 in 25 |
| Max Trailing Load | 46000kgs |
| Max Reach | 6.7m |
| SWL @ 5m R | Circa 3t |
| ALO Capable | YES |
| Travel Under Live OLE | YES |
| Work Under Live OLE | YES |
Compatible Attachments
Engcon / Rototilt
Pincer Grab
Log Grab
Clamshell
Heavy Duty Forestry Flail
Soil Nail Drill Rig
EMV Piling Hammer