U2150 UNIMOG
ROAD RAIL CHIPPER & BOX
Unimog U210 Chipper & Box is a 12tonne road rail Unimog capable of accessing on 99% of all approved road rail access points due to its 4x4 drive and extremely high ground clearance.
This is a high ride machine ( 9B ) with a self-tipping rear box capable of carrying up to 4tonnes of cut chippings, once the RRV reaches site it deploys the chipper to cutting height and powers the TP250 chipper via PTO directly from the Unimog.
Once the box is full the RRV can then travel back to the access RRAP, demount the rails and drive to a suitable place to unload the chippings via the tipping body which removes the need for manual labour and the safety risks.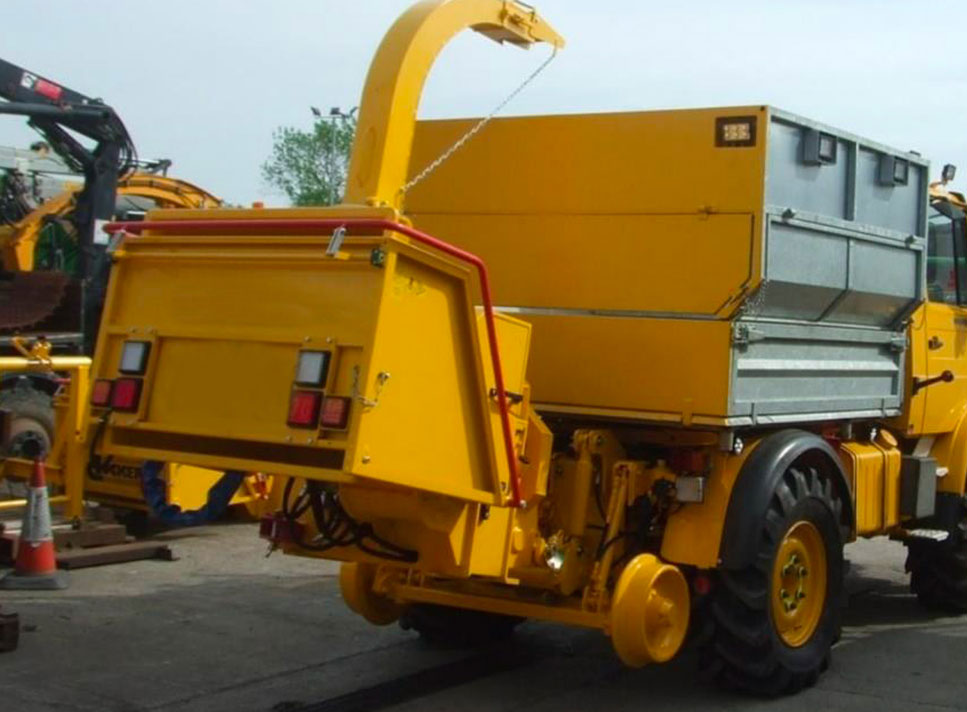 | | |
| --- | --- |
| Weight | 12000kgs |
| Gauge | W6a |
| Rail Type | 9B |
| On / Off Track Cant | 100mm |
| Max Travel Cant | 150mm |
| Max Working Cant | 150mm |
| Max Gradient | 1 in 25 |
| Max Chipping Weight | 4000kgs |
| Max Chipping Diameter | 250mm |
| Min/Max Chipping Sizes | 4-13mm |
| ALO Capable | YES |
| Travel Under Live OLE | YES |
| Work Under Live OLE | YES |
Chipper Specs
Disk Chipper 3x Knives
2x 260 x 350mm Feed Rollers
Rotorspeed is 1000RPM
Adjustable Chip Chute
Chip diameter from 4 to 13mm