COLMAR T1000
EXT COUNTERWEIGHT
The Colmar T10000 is the industry professional when it comes to heavy lifting / piling, with its huge 10t lift capacity and extendable counterweight makes it tonnes above the rest.
Recently fitted with a brand new GKD Series 3 Space guard ( High performance movement limiting device ) RCI to maximise the machines performance and lifting capacity in the safest possible working environment.
This machine is the perfect RRV to do all the heavy lifting on track such as pre-cast concrete foundations, stillages, on site concrete mixing, large timber removal and all things piling.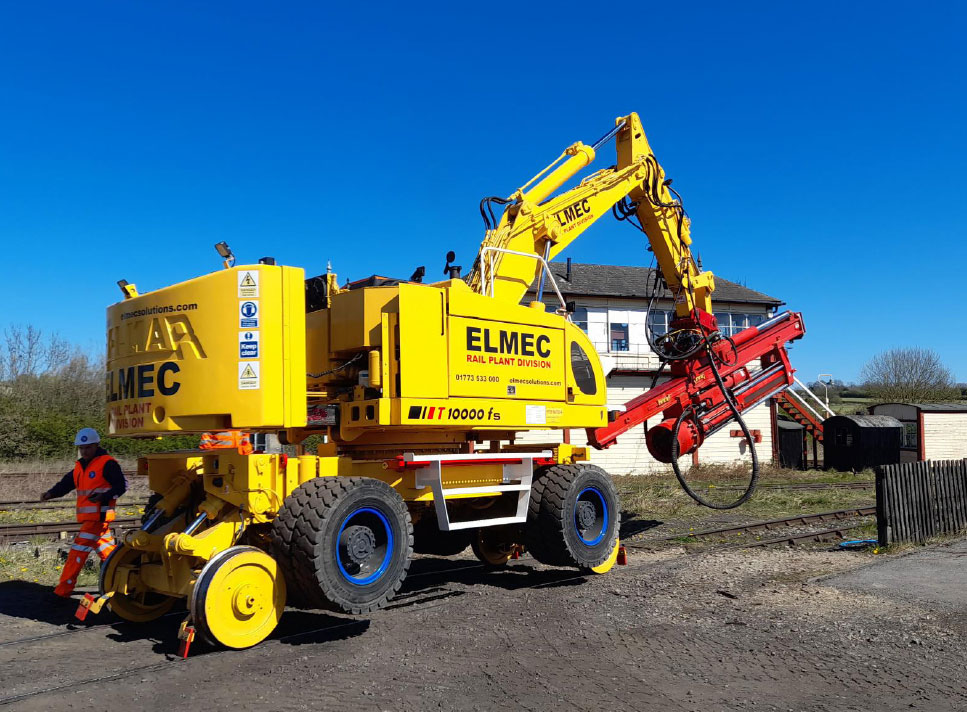 | | |
| --- | --- |
| Weight | 32000kgs |
| Gauge | W6a |
| Rail Type | 9B |
| On / Off Track Cant | 150mm |
| Max Travel Cant | 200mm |
| Max Working Cant | 150mm |
| Max Gradient | 1 in 25 |
| Max Trailing Load | 46000kgs |
| Max Reach | 7m |
| Max Lift Capacity | 10t |
| ALO Capable | YES |
| Travel Under Live OLE | YES |
| Work Under Live OLE | YES |
Compatible Attachments
HR2750 Fambo Drop Hammer
EMV Hammer
Movax Hammer
10t Lifting Hook
Downloads
Elmec-Solutions-Colmar-Case-Study.pdf